Newsletter |

Vol 11 - October 2019
In this newsletter...
Technical data can be expensive and difficult to obtain--collecting it, organizing it, analyzing it. Any time you have something someone else doesn't have, you need to retain that advantage and put it to work.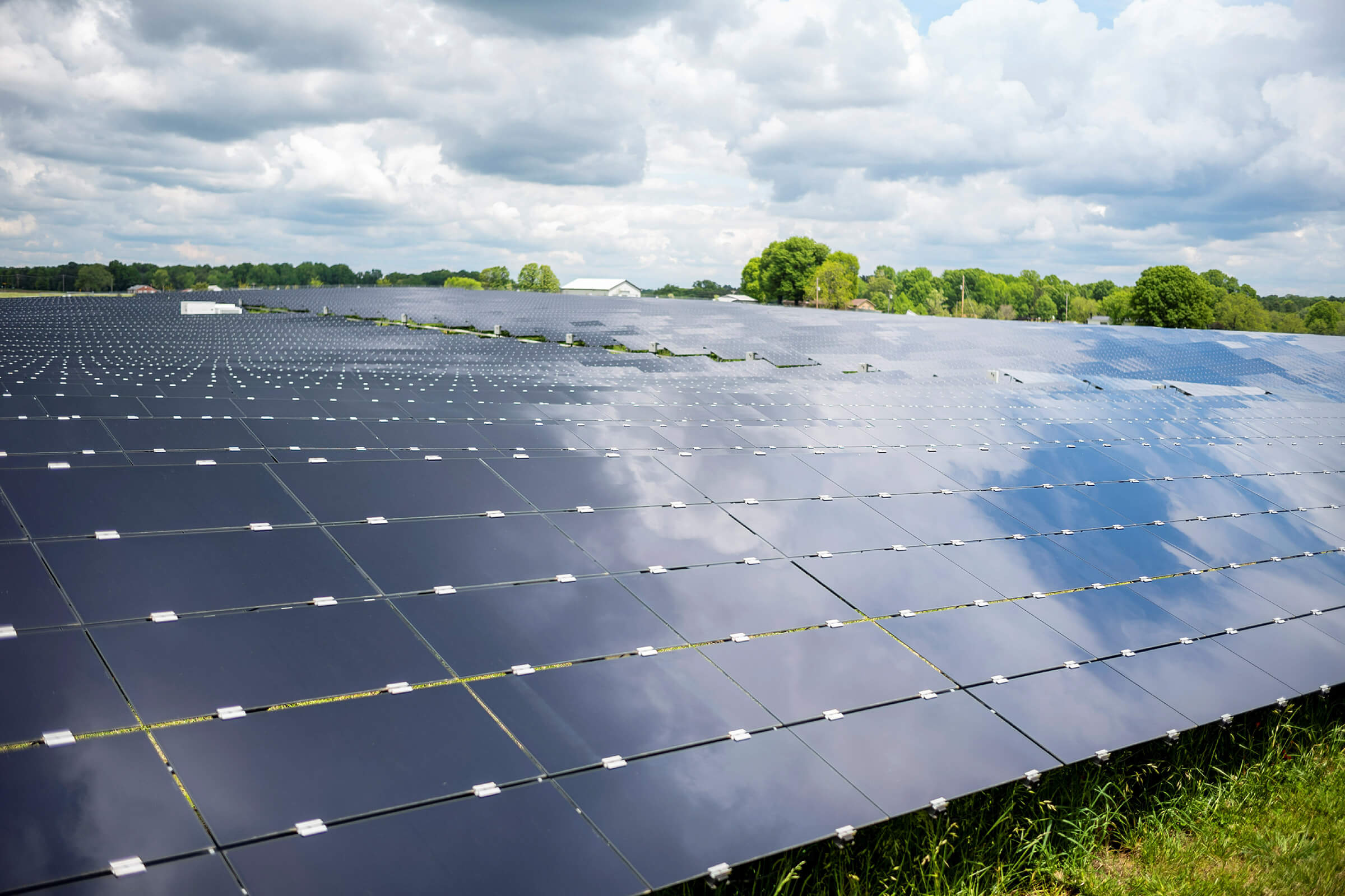 Duke Energy is building a solar powerplant in the Discovery Park District at Purdue University, near our location!
Click here to read more about the Tippecanoe County Solar Power Plant
Composites have been present in many forms since the beginning of time. Bone is a natural composite of a collagen matrix with hydroxyapatite particles imbedded, while wood is a lignin matrix with cellulose fibers. It has just been within the past 40 years that modern composite materials have been used in aerospace and aviation applications.
There are basically two types of composite materials: fibers and particulates, which are much like metal alloys. The particulate composites have micron-sized particles imbedded in the matrix. Some of those materials include SiC, Al2O3, Si3N4. These composites are isotropic in nature, meaning that their properties such as strength and stiffness do not vary with the direction of testing. Fiber composites (sometimes called whisker-reinforced composites) are anisotropic, meaning their properties vary depending on the direction of the load with respect to the orientation of the fibers in the composite. To overcome this problem, the layers are often stacked at varying angles to produce a laminate. Carbon fiber-reinforced polymers (CFRP) are used extensively in newer commercial passenger jets like the Boeing 777X, Boeing 787 and Airbus A350.
Composites provide a useful way to reduce weight in structures of importance in aerospace applications, while maintaining strength. Composite structures also have improved stiffness, fatigue performance and corrosion resistance versus metallic structures. They also can be shaped into more complex forms than most metals which eliminates the need for fasteners and their corresponding holes which are sources of stress and cracking.
The percentage by weight of the fighter aircraft F/A 18C/D and commercial jets are shown in the table below:
Percent of Structural Weight

Component material

F/A 18C/D

Boeing 787

Boeing 737

Aluminum

49

20

75

Steel

15

10

7

Titanium

13

15

3

Carbon Epoxy

10

50

12

Other

13

5

3

Total

100

100

100
CFRPs are used in wing, empennage and fuselage applications. In the B-2 stealth aircraft, radar-absorbing materials had to be added to the outside of the plane at some increase in weight. The use of composites elsewhere compensated for this weight gain. See the pictorial representation of the materials used to construct the Boeing 787 Dreamliner.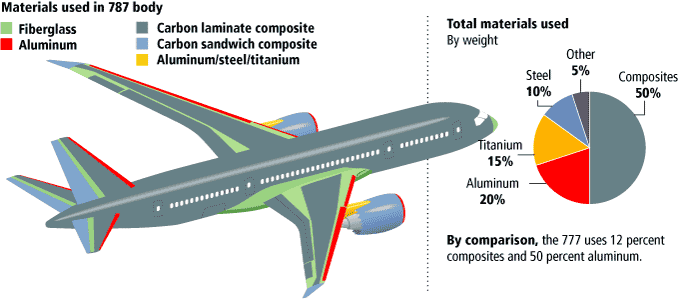 In commercial aircraft, the obvious case for composites is the reduced weight which allows for better fuel economy, but also lower maintenance, longer times before major inspections and lower operational costs. The cost of composites is higher versus metallic structures. Newer twin aisle planes like the Boeing 787 and Airbus A350 use extensive composites, but the single aisle planes (Boeing 737 and Airbus A320) remain mostly metallic because of cost.
CINDAS LLC has frequently been asked to assemble a composites database. Because there are so many possible variations in components for composites, we have been deliberate in constructing the composites database. In early 2020, we will be introducing the CINDAS Composite Materials Database (CCMD) which will contain 520 materials (both whisker- and particulate-reinforced), in 7 material groups. There are 12 property groups, with 202 properties.  The total number of data sets is 4,430 with approximately 12,000 data curves.
This database was carefully developed from various published and previously unpublished CINDAS LLC sources including the Databook on Mechanical and Thermophysical Properties of Whisker-Reinforced Ceramic Matrix Composites and the Databook on Mechanical and Thermophysical Properties of Particulate-Reinforced Ceramic Matrix Composites published by the Ceramics Information Analysis Center at Purdue University. Having all information from various CINDAS LLC databases as well as that of newly developed materials in a single source will be a great advantage to users. 
If you are interested in previewing this new product, please contact Patricia Mason at patti@cindasdata.com.
"Information is the oil of the 21st century, and analytics is the combustion engine."  -- Peter Sondergaard
What's New: Product Updates[Permalink]
August 2019
ASMD/HPAD/AHAD: Waspaloy Chapter Update
Waspaloy is a widely used superalloy with primary applications in turbine engine components. The original chapter was published in 1986. This update adds information on processing and properties of the alloy that have occurred since this original publication. It also includes additional photomicrographs of microstructures of Waspaloy in various conditions.
"Every company has big data in its future, and every company will eventually be in the data business." -- Thomas H. Davenport
We currently have three new chapters in the ASMD and AHAD scheduled for release in 2020. The first chapter will be the long-awaited chapter on Ti-6Al-4V; this very popular titanium alloy will be covered from an additive manufacturing (AM) viewpoint. You will recall that we initially told you about this chapter in a previous newsletter. It will cover the various processes used in AM and the resulting properties of Ti-6Al-4V when produced with this processes.
The second chapter is a combination chapter covering two newly developed high performance alloys for gear and bearing applications: Ferrium C61 and Ferrium C-64. The core properties of these secondary hardening martensitic steels exceed those of 9310 and X-53, allowing for weight reduction and an increased range of working temperatures.
The third alloy, Haynes 244, is a newly developed Ni-Mo-Cr-W alloy for advanced gas turbine engines. It offers a higher maximum-use temperature than other currently available low thermal expansion alloys.
""Without big data, you are blind and deaf and in the middle of a freeway." -- Geoffrey Moore
LibraryLearningSpace.com[Permalink]
LibraryLearningSpace is an iGroup (Asia Pacific) website. It is the new home of  ACCESS: Asia's Newspaper on Electronic Information Products & Services, which no longer has a print edition.
iGroup (Asia Pacific) Limited is a Hong Kong registered multinational organization with offices spanning 14 countries in the Asia Pacific region and with a total staff force of over 1000.
The first issue of ACCESS: Asia's Newspaper on Electronic Information Products & Services was published in 1992 in Singapore by Knowledge Share International for the companies which later became the iGroup. Its role was to showcase the new databases and storage technologies which libraries in Asia could deploy for their students and faculty.
Through the years ACCESS reported every quarter on electronic publishing news, conference dates and features on what libraries in the region were doing. From CD-ROM to CD networking, from hard disc to internet delivery, ACCESS covered it all.
The last print issue, published in December 2012, was succeeded by ACCESS@librarylearning space.com.  The reporting of the website and ACCESS eNewsletter is broader than the print edition covering copyright issues, online learning, data curation, digitization as well as product, publishing and technology news.  There?s also more news from libraries in the Asia and Pacific region. You can register on the home page to receive the free of charge twice monthly ACCESS eNewsletter by email.
Contact marketing@igroupnet.com with your library news, products and services in the Asia Pacific region as well as conference listings.
"If somebody tortures the data enough (open or not), it will confess anything." -- Paolo Magrassi
Training Resources Available[Permalink]
We have added a new link (LEARN) on our webpage: https://cindasdata.com/learn. Here you can find everything you need to know about how to use the CINDAS LLC databases and on-line handbooks.
Under this tab you will find a general presentation about our databases as well as an instructional video demonstration from a live training session. There are also PowerPoint presentations on the ASMD/AHAD, TPMD, SAH, and DTDH.
Another invaluable tool assembled by our associate Helen Josephine is the Lib Guides feature. It will allow librarians to incorporate content from our LibGuides into their libraries' content: https://cindasdata.libguides.com/userinf.
Besides giving thorough descriptions of the products and their use, the pages show how to cite various CINDAS sources in documents and how to request a webinar for training.
REQUESTS FOR TRAINING
Please review the CINDAS instructional video demonstration of a live training session on the new CINDAS LEARN link: https://cindasdata.com/learn.
If you need additional site training, contact us to schedule a phone conference or a webinar: https://cindasdata.com/support/training.
"Data is a precious thing and will last longer than the systems themselves." -- Tim Berners-Lee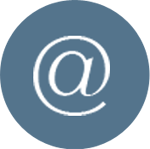 Newsletter
Technical data can be expensive and difficult to obtain--collecting it, organizing it, analyzing it. Any time you have something someone else doesn't have, you need to retain that advantage and put it to work.
Our newsletters include informative updates on CINDAS LLC as well as news from the materials world.
---